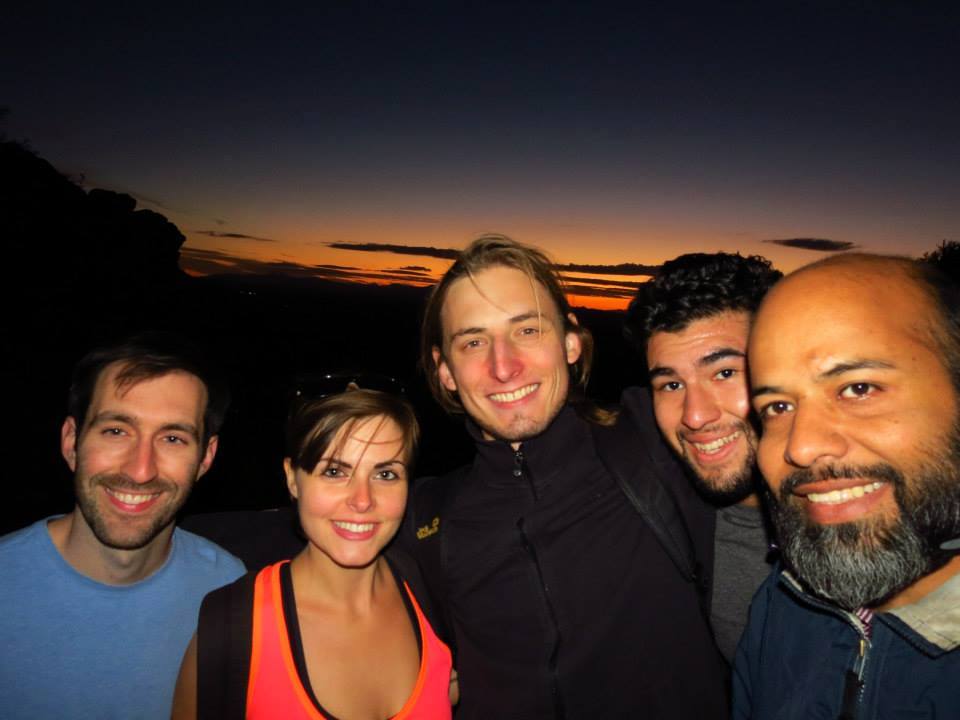 Psychophysiology lab members showing two visiting students one of the hiking locations in Tucson at sunset.
Current research topics in the lab
Researchers in the psychophysiology lab have wide-ranging interests, from basic research identifying neural correlates of emotional and cognitive processes to the etiology and treatment of mood and anxiety disorders. Major current lines of research include:
Identifying risk factors for depression, including frontal EEG asymmetry and resting state fMRI connectivity
Investigating novel, alternative interventions for mood and anxiety disorders, such as Transcranial Ultrasound
Exploring how emotion impacts
decision-making and attention
Which physiological or other methods are used? Which techniques can students learn there?
As a visiting member of the lab, you would have the opportunity to learn and utilize a number of psychophysiological methods and be mentored by Dr. John J.B. Allen, former president of SPR, and other lab members with expertise in specific research tools. We are using electroencephalogram (EEG), event-related potentials (ERP), and simultaneous EEG and fMRI. You can also learn to record and derive heart rate variability (HRV) and respiratory sinus arrhythmia (RSA) metrics.
Requirements for an exchange? (knowledge, length of stay)
There are no requirements for an exchange program in the psychophysiology lab – only an interest in learning psychophysiological methods and willingness to explore a new city and learn from others! However, students must be able to fund their own salary and living expenses.
Funding possibilities by department?
Unfortunately, there are no opportunities at present for receiving funding from the Psychology Department at the University of Arizona
Contact information/go-to person
Dr. John Allen, John.JB.Allen@arizona.edu, Director of the Psychophysiology Lab
Information on city (housing, costs of living)
The University of Arizona is a leading research institution that offers the opportunity to explore Tucson, AZ, USA. Tucson is one of the sunniest cities in America, boasting nearly 300 days of sun each year. Daily high temperatures typically range from 60 F (15.5 C) in winter to 110 F (43 C) in summer. Four mountain ranges surround Tucson, and there are many opportunities for hiking and delicious food! Housing is inexpensive and there are many opportunities for month-to-month leases in apartment complexes near campus.